Ultimate guide: All you need to know about Carnival Luminosa
Ship Guide
While Carnival Luminosa is quite new to the Carnival fleet, previously serving as Costa Luminosa for Costa Cruises. it has proved a big hit afrer its first Australian season with its homeport in Brisbane.
Shortly after being acquired by Carnival, the ship was refitted, but therte is still a distinctive Italian feel to it, thanks to its Costa Cruises roots. Otherwise, it maintains the same feel of Carnival's other family-fun ships.
And while the ship isn't new, being built in 2009, it has been well maintained and along with the refurbishment, shows few signs of wear.
At a glance
Here's what to expect onboard Carnival Luminosa.
Although not as modern as sister ship Carnival Splendor, Carnival Luminosa is a great family ship, offering the classic Carnival Cruise experience. Despite the ships slightly older age, it is very well maintained and clean. The 2260-passenger Luminosa is also smaller than 3012-passenger Splendor, meaning it offers a slightly less-crowded and less-chaotic experience. However, it doesn't quite have extensive of facilities Splendor offers.
Carnival provides one of the best cruise experiences for those looking to not just relax, but also unwind with a few drinks or some partying. There are many themed party nights and lively bars and clubs onboard.
The ship offers all the classic Carnival experiences like Alchemy Bar, Fahrenheit 555 Steakhouse, Redfrog Rum Bar, Piano Bar 88, the Comedy Club and more.
Carnival Luminosa sailing out of Queensland means that if you're looking to sail a Queensland itinerary, such as a Great Barrier Reef, you can get a few less sea days by sailing on Luminosa.
Things to do on Carnival Luminosa
Just as you'd expect from a Carnival ship, Luminosa is packed full of activities. Guests can sink into a lounge chair and watch a film at dive-in movies, try their luck at bingo, visit an art gallery, take portraits at dreams studio, browse at the library, shop for clothes and jewellery, take the kids to the video arcade and plenty more.
Guests can dance the night away enjoy the '80s night, sailaway party, white hot night party and Mega Deck party, as well as find karaoke and live music all over the ship.
There are also plenty of opportunities to keep fit and active with a jogging track, fitness centre, fitness classes and multiple sports courts. There is also an extensive spa for health, beauty and wellness.
Luminosa_Cloud9_Spa_thermal_suite_00014986 (1)-min-min
Luminosa_cloud9_spa_thermal_suite_00014389-min-min
Luminosa_Cloud9_Spa_thalasso-min-min
Fun for kids
Carnival is a great cruise line for kids and life on Luminosa is no exception.
Camp Ocean runs activities and childcare for those aged from two to 11. That then splits into Penguin Colony for kids aged 2-5, The Stingrays for those 6-8 years and The Sharks for those aged 9-11.
The Penguins partake in activities such as Musical Icebergs and Ocean Bingo. The Stingrays take on tasks like making sea salt art, designing their own aquarium and enjoying a Pirate Game Night. Children aged 9-11 test their knowledge with Marine Life Trivia, or activities including sea-themed volleyball, a soccer game, or making ocean murals and more.
Those aged 12 to 14 can hang out at Circle "C", where activities ranges from dance parties and outdoor movies to all kinds of games and icebreakers.
CLUB 02 is a teens only lounge for those aged 15 to 17, where kids can play sport, video games, do karaoke, have parties and more.
Most kids clubs are included in the price, but if you want your younger kids to be taken care of in the later hours, you'll have to send them to 'Night Owls', where additional costs will be incurred.
There are plenty of other activities onboard like the video arcade, build-a-bear workshop, Dr Seuss story time, arts and crafts stations, pools, sport courts and more that are great for kids.
Dining
Included dining: The Carnival Cruise main dining room is all-included with your fare, from breakfast to dessert. The menu is rotating but expect to see the classics like steak, seafood and prime rib.
Also included in your dining is the Lido Marketplace, which has a range of buffet style options from a salad bar to Carnival Deli to Sweet Spot and more. Other options include the late-morning or early afternoon eats at Seaday Brunch, fresh slice at Pizzeria del Capitano and Deli, Artisan Eats.
Specialty dining: At Fahrenheit 555 guests can go get their steak fix, with a range of beef options. Seafood Shack is the specialty go-to for a seafood option, Bonsai Sushi Express offers a Japanese option and the Steakhouse restaurant offers another gourmet option.
Those with cash to splash can opt for the Chef's Table Experience. The Carnival Luminosa Chef's Table costs $140 per adult or child, with a chef curated culinary journey including cocktails and hors d'oeuvres, a behind-the-scenes tour of the galley and full-service dinner included.
Bars and lounges
A Carnival favourite is RedFrog Rum Bar, which offers the perfect option for a tropical cocktail by the pool, with plenty of Caribbean rum options by the glass or pitcher. To try out different cocktails you can get the cocktail specialists at Alchemy Bar to whip you something up. Song and dance goes late into the night at the Piano Bar, where song recommendations and sing-alongs dictate the set list. The Casino Bar offers an easy option for a drink before or after the Casino.
When you're ready to dance you can head to the nightclub, which is also the location for themed-parties.
Entertainment
The theatre offers a range of entertainment, featuring Broadway-style shows, which are all included in your fare. A Carnival special is Playlist Productions, which takes popular songs and puts them into a musical theatre context, encouraging the audience to sing and dance along.
The Punchliner Comedy Club has a range of family-friendly and adult-only shows, for those looking to catch a laugh at sea.
Karaoke is a classic cruise activity and the Carnival Luminosa karaoke list should have plenty of options, from newer songs to the classics.
Live music is commonplace around the ship, with Redfrog Pub, the Piano Bar and other venues onboard often hosting live gigs.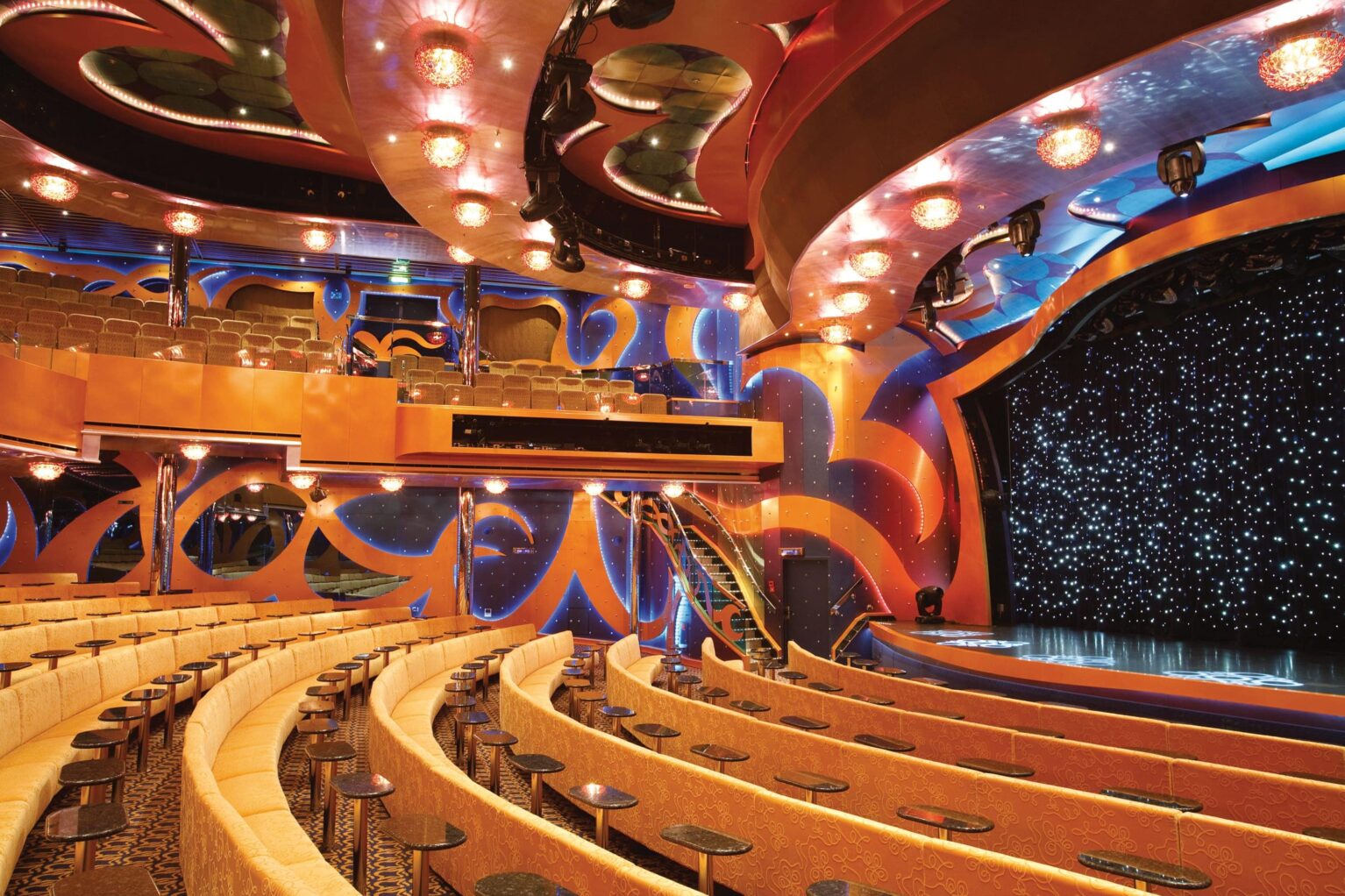 Carnival Luminosa rooms
Carnival Luminosa has 1130 cabins and suites. Interior staterooms start at around 13- 14 square metres, with Grand Vista Suites going up to 68 square metres.
Every room has a dedicated attendant, a television, in-room safe, temperature control, bathrobes on request and closet and drawer space.
The ship offers flexible staterooms, including configurations where a stateroom can sleep up to five people, including children. Guests can also opt for connecting rooms, rooms with extra bathrooms and special accessibility cabins.
Carnival Luminosa offers seven categories of accommodation, interior, ocean view, balcony, suite, Family Harbour, Cloud 9 Spa and Havana.
Options for an interior room are basic interiors, interiors with an obstructed view window, interiors with a picture window and Cloud 9 Spa interiors. Obstructed view interiors still have floor to ceiling windows, but do not offer a full view out to the ocean.
Cloud 9 Spa interiors take the 'warm essence' of Cloud 9 Spa and put it into the stateroom. There are also a range of perks that come with a Cloud 9 Spa room, including unlimited use of some spa facilities like thermal suites and the hydrotherapy pool, two complimentary fitness classes, upgraded in-room toiletries, special bathrobes and slippers, priority spa reservations and more.
See the full list of perks here.
There are four kinds of Balcony rooms, Balcony, Extended Balcony, Premium Balcony and Cloud 9 Spa Balcony. The higher categories offer larger balconies and the Cloud 9 Spa Balcony includes all the extra amenities.
Carnival Luminosa has six suite categories. The Junior Suite is the most modest yet still luxurious option, ranging up to the decked out Grand Vista Suite. Those booked in suites also receive priority check-in and boarding, priority main-room dining time assignment, priority debarkation at homeport and more.
AG_20221103_CARNIVAL_LUMINOSA_0375 Interior Quad-min-min
AG_20221103_CARNIVAL_LUMINOSA_0372 Grand Suite-min-min
AG_20221103_CARNIVAL_LUMINOSA_0369 Suite -min-min
AG_20221103_CARNIVAL_LUMINOSA_0345 Balcony-min-min
For more information on Carnival Luminosa, click here