She has been one of Australia's favourite ships for seven years. But this season Royal Caribbean's Voyager of the Seas returns Down Under with a brand new look.
Voyager has had a $144 million makeover with the Aussie cruiser in mind.
And one change was even sparked by an Australian passenger. Dave Winter sent an email to Royal Caribbean's president, Michael Bayley, suggesting the hull colour be changed to match that of Spectrum. Following his request, Voyager's hull has now been painted an eye-catching Quantum Blue. Read our interview with Dave Winter.
Cruise Passenger was invited to see her while she's undergoing her $144 million refurbishment which will include new waterslides, staterooms and family-friendly public spaces.
She's around halfway into her 41-day facelift at the Tuas Shipyard in Singapore with 2,236 construction crew, getting her ready for her big show in Australia, New Zealand and the South Pacific.
Royal's Associate Hotel Director Umit Erdogan and the Acting Cruise Director of Voyager, Alex Schmidt,  took us around Voyager to see what's new for the upcoming wave season.
The gang explained that Voyager's revamp is centred around families and they have created a cruising experience for every generation.
The addition of 'The Perfect Storm' waterslide duo is perfect for kids and adults. Named Typhoon and Cyclone, the slides have three stories of heart-racing twists and turns. Guests can race each other down the slides and each slide only a heart-stopping 21 seconds from start to finish. We were also lucky enough to witness the slides being installed on deck 13 of the ship while we were on tour.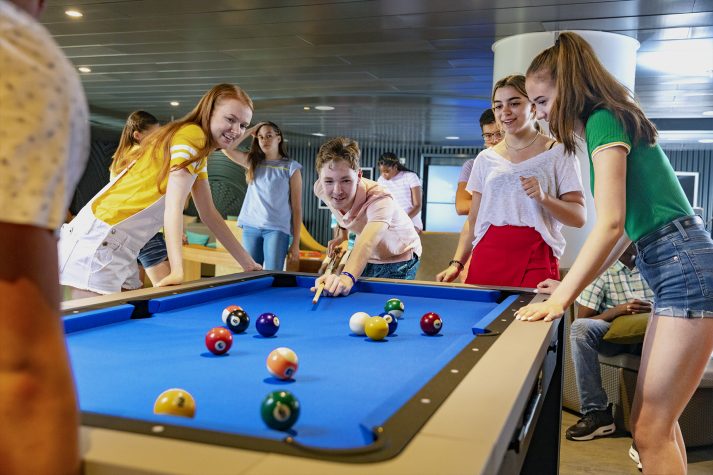 Mr Erdogan also explained how the water slides, sports deck, teens club, Adventure Ocean, gym and spa will be located on decks 12 and 13 of the ship. Having these facilities situated around the same area will allow the family to stay close to each other while doing different activities. Then, they can easily head to the Windjammer restaurant on deck 11 for lunch or dinner.
The little ones can also look forward to the new Battle for Planet Z laser tag, a favourite on other Royal ships such as Symphony and Spectrum of the Seas. Located in the ice rink at Studio B, the glow-in-the-dark adventure will allow family members to battle one another in an epic 'Aliens versus Robots' galactic showdown.
There is also a new nursery program for children under three (ages six to 36 months). The centre has been designed with lots of open spaces so kids can play on their own. And the new teen area, called the Living Room, will have new furnishings, outdoor seating as well as a play space.
Mr Erdogan said the revamp has been designed for Australians and as we love the sun and surf, there are plenty of new outdoor facilities including a refurbished. Pool Deck, Pool Bar, Sky Deck, Sky Bar and Solarium. Active cruisers can also visit the enhanced Vitality Spa and Fitness Centre, which will be relocated to the aft of the ship.
Along with refurbished outdoor areas, 72 new inside and balcony staterooms are being added. Existing staterooms will see small upgrades too, such as new carpets, reupholstered sofas, new finishes and the installation of Smart TVs.
A new Suite Lounge and outdoor area is also exclusively available for guests in Grand Suites and above, with food service throughout the day and a concierge service to help them book activities like excursions.
Dining venues like the Main Dining Room and Windjammer will also be new, with additional dining tables added to Windjammer.
Other interesting facts and figures on Voyager's revamp include:
2,174 mattresses and 1,643 TVs changed in guest staterooms
3,200 bed frames removed
10,600 litres of paint used to repaint the ship
10,000 pounds of laundry sent out weekly
5,418 pieces of furniture replaced
3,119 phones replaced in staterooms
A total of 138,196.85 man hours spent on dry dock construction
Voyager will come out of dry dock on October 16. Following sea trials, she will have eight sailings out of Singapore to popular ports like Port Klang, Malacca, Penang and Phuket. On November 16, she embarks on a 14-day repositioning cruise to Sydney and will sail 3 to 11-day itineraries around Queensland, the South Pacific and Tasmania.