The grand voyage is gaining popularity with more cruise lines rolling out world cruises with extended itineraries that sail for a minimum three and up to eight months on end.
The world's longest 245-day world cruise by Viking Ocean Cruises is departing this month and luxury lines like Seabourn will launch its first world cruise in six years in 2020.
A full world cruise is a big commitment – you have to make arrangements to be absent from home for an extended period of time. So here are some tips that will make your planning easier.
Most voyages begin in America or Europe and set off in January. While called a world cruise, the itineraries usually do not visit all continents of the world in a single voyage.
The lines often shift the focus of the world cruise from year to year, for example a detailed exploration of Asia and Australia in 2020 and switching to a South America and Africa in 2021. It would be wise to compare the ports visited each year to make sure they cover your bucket list destinations.
Most lines throw in extra bonuses such as free flights, on board credit and drinks packages so keep a lookout for them. Some lines would also have some shore excursions included in the price.
For those who wish to dip their toes in the world cruise experience, there is often an option to join the cruises for a shorter segment, perhaps in a particular region you are keen to explore.
Here are what eight lines are offering on their world cruises:
Viking Ocean Cruises
Viking is offering the world's longest world cruise departing on 31 August this year. The 2019/20 'Ultimate World Cruise' is a 245-day London roundtrip and the sailing on the Viking Sun will conclude May 2, 2020. The itinerary brings guests to 111 of the world's greatest cities and smaller ports, across 53 countries and includes 23 overnights. The fares are from $115,995 ($473 per day) but with just over a month out to sail date; only 2 Penthouse Veranda Staterooms (from $146,595) and the Owner's Suite are left.
2019/20 Ultimate World Cruise
For 2020/21 the line is offering a 161-day world cruise from Miami to London, departing December 14, 2020 and sailing till May 24, 2021. Guests aboard Viking Sun will be visiting 75 cities in 33 countries, with 13 overnight stays. The itinerary will also include six new ports of call, including the line's inaugural visit to the Hawaiian Islands. Fares start from $85,995 for a Veranda Stateroom ($534 per day). Book by August 31, 2019 to enjoy free Business Class flights, airport transfers, US$2,000 shore excursions credit and US$1,000 shipboard credit per person, free VISA service, silver spirits package, unlimited Wi-Fi and more.
2021 World Cruise Itinerary
Cruise & Maritime Voyages
In 2020, the line departs on a 120-night 'Grand Round the World Cruise' on January 6 from London (Tilbury). The roundtrip sailing on the Columbus visits the Azores and Caribbean, transit the Panama Canal calling at islands of the South Seas to New Zealand and Australia, before unveiling highlights of Asia. Discover the ancient sites of Egypt and Jordan and transit the Suez Canal to the Holy Land from where Columbus sails the Mediterranean homeward bound.
CMV is also offering a 120-night 'Grand World Voyage' in 2021, but rather than travelling via the Suez Canal as CMV has previously done, this voyage will sail around the tip of South Africa, giving guests the opportunity to take a wildlife safari out of Cape Town or visit the white sandy beaches of Mombasa in Kenya.
Set sail on board Columbus from London (Tilbury) in January 2021 and return in May after visiting more than 38 destinations across 24 countries. This includes
overnight stays in Papeete, Sydney, Mombasa (Kenya) and Cape Town. Back by popular demand are CMV's
extended stays, giving guests more time to explore ashore in Colon (for Panama City), Tonga, Auckland, Airlie Beach, Singapore, Phuket and Colombo, Rio de Janeiro, Salvador and Casablanca (for Marrakech).
The full 120-night voyage is currently available on Buy One Get One Free, so guests can take the trip from just $16,649 per person* (Guest 1 from $33,299 with Guest 2
FREE), which is less than $140 per person per night.
Princess Cruises
The line has a 111-day world cruise itinerary sailing in 2020 and 2021. Guests can choose between a Los Angeles and a Fort Lauderdale roundtrip. In the 2020 sailing, guests will visit 38 ports including three scenic cruising sailings. Fares for an interior cabin on the Pacific Princess start from $23,499 ($211 per day).
In 2021, the itinerary visits 48 ports with two scenic cruising journeys. Fares for an interior cabin on the Island Princess start from $30,269 ($272 per day). The line also sells the world voyage in shorter segments such as 15-day, 29-day, 74-day and 96-day itineraries in 2020 and 2021. Those often sell out quickly so book early to save your spot.
Cunard
The Queen Mary 2 will be hosting 99-night Southampton roundtrip world cruises in both 2020 and 2021. It sails from January 10 to April 18 and will be visiting 31 ports in 16 countries in 2021, including overnights in Sydney, Hong Kong, Singapore and Dubai as well as three full days to explore Cape Town. Both itineraries will visit the Mediterranean, Arabia, Asia, Australia and Africa although there are slight differences in the ports visited and they will also be covered in a different order. Fares start from $21,279 ($212 per day) for a Britannia Inside cabin in 2020 and $22,299 ($222 per day) in 2021.
In 2021, Queen Victoria will also be going on a 108-night Southampton roundtrip world voyage, exploring the Caribbean, Australia, Asia and Africa. The sailing departs January 10 and concludes April 29, 2021 with visits to 33 ports in 22 countries. Fares for a Britannia Inside cabin start from $25,699 ($235 per day).
Crystal Cruises
The line offers world cruises aboard Crystal Serenity each year. Sail the world and join the line's optional shore excursions that range from adventures, cultural experiences as wells intimate private tours. Crystal Cruises also offers their world cruises in shorter segments and different start and end ports. In 2020, the 105-day itinerary highlights New Zealand and the South Pacific. It sails from Miami to Rome, from January 6 to April 21, 2020.
In 2021, the 139-day itinerary shines light on Asia, sailing to Hong Kong, Vietnam, Malaysia and especially Japan. The itinerary departs Miami on January 5, 2021 and concludes in London on May 24.
Meanwhile, the 2022 world cruise features ports in the Mediterranean and Mexico. The 116-night Miami roundtrip departs January 17, 2022.
Oceania Cruises
The line offers a 180-day world cruise in both 2020 and 2021 on MS Insignia. The cruises depart Miami on January 8, 2020 and January 9, 2021. The 2020 sailing visits 95 destinations in 38 countries and 17 overnights before concluding in San Francisco on July 5. The itinerary focuses on the west coast of North America, South America, west and south of Africa as well as Asia.
The 2021 sailing visits 100 destinations in 43 countries with 16 overnights in Europe, North America, Southeast Asia, Australia and the Hawaiian Islands. Both itineraries include 70 free shore excursions, free beverage package and free US$7,000 shipboard credit. Fares start from $58,020 for a G – Inside Stateroom on the 2020 sailing ($322 per day) and $67,460 on the 2021 sailing ($374 per day) for a deluxe oceanview cabin.
Regent Seven Seas
The line's 2020 world cruise is a 131-night San Francisco, California roundtrip, departing January 24, 2020 on the Seven Seas Mariner. The journey will take guests to 66 ports in 30 countries, with 13 overnight stays and 36 UNESCO World Heritage sites. Guests will also be able to choose from up to 337 free shore excursions. The sailing concludes on June 4, 2020 and only has limited suite categories left. The Deluxe Veranda Suite is available from $99,150 ($751 per day) and Concierge Suite are the only other categories available.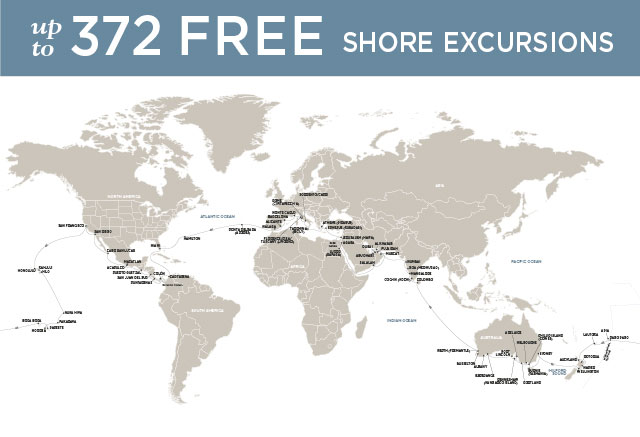 The 2021 world cruise departs Miami on January 5, 2021, to sail 117-nights around the world on the Seven Seas Mariner before concluding in Barcelona on May 3, 2021. The voyage covers 61 ports across 30 countries, including 11 overnight stays and 56 UNESCO World Heritage Sites. Guests will also be able to enjoy up to 324 free shore excursions. The Deluxe Veranda Suite is available from $89,440 ($758 per day).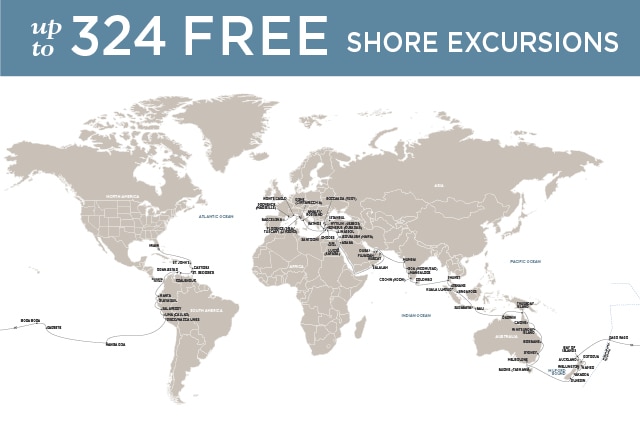 The line is shifting the focus to the Pacific Rim in 2022 with this 120-night Asia-Pacific Circumnavigation on Seven Seas Mariner. It is the line's first world cruise to Asia-Pacific since 2009. The San Francisco, California roundtrip sails from January 5 to May 5, 2022, visiting 59 ports and 17 countries. Guests will also enjoy 18 overnights, 43 UNESCO World Heritage Sites and nearly 300 free shore excursions. Fares start from $91,560 for the Deluxe Veranda Suite ($757 per day).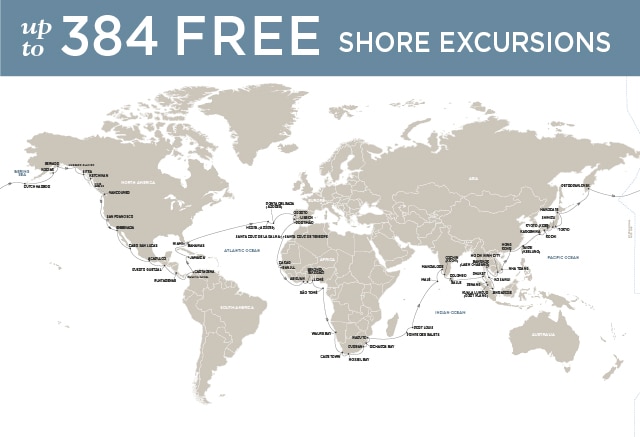 Seabourn Cruises
The line's first World Cruise in six years will be departing in January 4, 2020 from Miami and concluding in San Francisco in May 28, 2020. The 146-day voyage on the Seabourn Sojourn will visit 62 ports in 36 countries and will also include 16 overnights. The itinerary in 2021 is similar but with a few tweaks to it. It is not open for booking yet, but updates from the line will be coming soon.
The 2021 sailing is a 140-day Miami to Barcelona, from January 7 to May 24. It visits 60 ports in 32 countries, including 10 overnights and 16 late night departures. The 2021 itinerary also shifts the 2020 itinerary's focus on Southeast Asia to complete a circumnavigation of Australia as well as exploring the Panama Canal. Fares start from $92,999 for an Ocean View Suite for the 2020 itinerary but guests can also buy shorter segments ranging from 12 to 78-days. Seabourn Cruises shore excursions are available at additional cost.
Silversea Cruises
The 140-day 'Legends of Cruising' sailing from Fort Lauderdale (Florida) to Amsterdam departs January 6, 2020 and concludes on May 25, 2020. The world cruise on Silver Whisper will visit 62 ports in 32 countries. In addition to a range of shore excursions, guests will also be treated to exclusive events such as symphonies and champagne at the Quarry Amphitheatre in Fremantle (Perth), Australia, exploring Buenos Aires, Argentina in a vintage car and indulge in a farewell dinner in Edinburgh's majestic Mansfield Traquai, a beautiful venue with ornate stained glass and elegant stonework. Fares start from $136,800 for the Veranda Suite ($977 per day).
The line has two world cruises planned in 2021. The 'Finest World Tour' is the more traditional option, a 150-day voyage from Fort Lauderdale (Florida) to New York. It departs January 7, 2021 and concludes on June 6, 2021 after visiting 54 ports across 34 countries. Guests can also take part in exclusive events like attending a masked ball in Venice and a night at the races in Hong Kong. Fares on the Silver Whisper starts from $90,000 for the Vista Suite ($600 per day).
The 'Uncharted World Tour' is the first-ever expedition world cruise and it also departs in 2021. The sailing starts from Ushuaia on January 30 and concludes in Tromso on July 16. This 167-day sailing on the Silver Cloud, ice class expedition vessel, visits 107 ports in 30 countries. It carries 254-guests, providing an even more intimate experience than the 388-guest Silver Whisper. The expedition vessel also has 18-brand new Zodiacs to discover exotic destinations. Special events include a private dinner at Robert Louis Stevenson's house and more. Fares start from $138,000 for the Vista Suite ($826 per day).