We all know they are not the best cabins on the ship.
But if bagging a bargain on an inside cabin could mean the difference between taking to the seas or staying on dry land, we know what we would do.
So will an inside cabin really save you that much money? The short answer is yes. 
"Inside cabins offer great value cruise way to cruise for people wanting to make the most of destinations and ship facilities. Book early to get a great deal on the cabin, itinerary, and dates you want." Monique Van Gelder, Cruise Marketing Manager at Flight Centre told Cruise Passenger. "You can get good deals last minute, but there might only be upgraded cabins left, which can be more expensive."
When it comes to inside cabins, location could make all the difference. "Like all cabins, on all ships, midship is the place to be", Ryan Posa, General Manager at CruiseSaleFinder told Cruise Passenger. However, another way to get a bargain is booking an inside cabin on guarantee status. These cabins are cheaper, but you have no control over the cabin location. "The cruise line guarantees you an inside cabin or higher so there is a good chance you could receive an upgrade".
So, for the bargain hunters among us, which is the best inside cabin at sea?
Size
At 293 sqft the Large Interior Stateroom aboard Holland Americas MS Amsterdam is the biggest inside cabin. It comes in at $330 per person lower than its Oceanview counterpart, and $1,237 per person lower than a Balcony Stateroom. Based on a 7-night Alaskan cruise, September 2018.
Extras
There are lots of perks available for inside cabins, such as free ice cream and concierge lounge passes in Royal Caribbean's Ben & Jerry's Sweet, and access to the Studio Lounge with exclusive social events in NCL's Studio cabins. Carnival offers unlimited spa access and priority booking for treatments with Interior Spa Cabins. To upgrade from an Interior cabin will cost you $119 per person, which is still cheaper than an Oceanview at $189, and a Balcony at $372. Based on a 7-night Caribbean cruise, October 2018.
View
For a view without the expense choose Royal Caribbean's Virtual Balcony Cabin or Promenade Stateroom with a window overlooking the Royal Promenade. Both cabins come in at $128 per person more than a standard inside cabin, but still saves you $354 per person more than a real Balcony, and $65 more than an Oceanview. Based on a 6-night Tasmanian cruise, February 2019.
Most cruise lines offer obstructed view cabins, which will allow natural light into your cabin, but don't come with such a hefty price tag. The Carnival Obstructed View is just $125 per person more than an Interior cabin but is still $125 cheaper than an Oceanview. Based on an 8-day Pacific Island cruise, October 2018.
Families
The Inside Staterooms aboard the Disney Dream and Fantasy offer Magical Portholes, which show a projection of the ocean with the occasional Disney character swimming past. This cabin will save you $1,262 for a family of four compared to having an actual porthole in your cabin, and $7,952 compared to booking a Balcony cabin. Based on an 11-night European Cruise, July 2018.
Luxury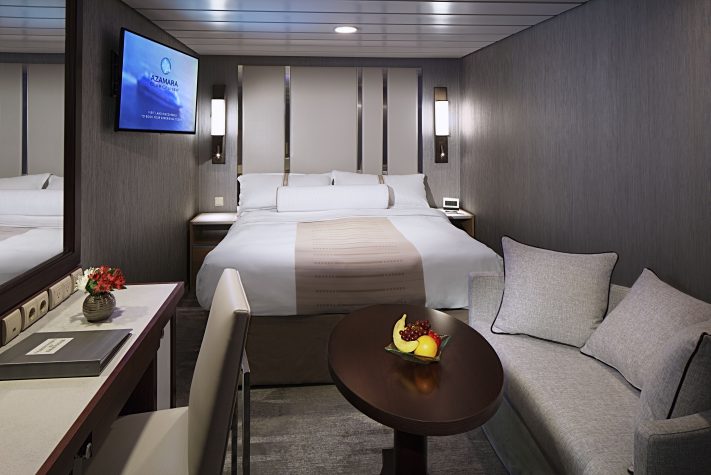 If you want to enjoy the ambience of a luxury cruise but are watching your budget, interior staterooms on lines such as Azamara and Cunard could be the answer. Save $490 per person compared to an Oceanview, and $973 compared to a Balcony on Azamara Journey. Based on a 7-night Mediterranean cruise, October 2018.
What are your inside cabin stories?  Tell us what you think is the best – comment on this story now.