Norwegian Bliss wins the race for new activities
Ships
As I crossed the finish line to a load cheer, the only thing missing was the bottle of champagne champions always shake so they can spray the crowd.
It may not be quite Formula 1. But it certainly is a new and different winning cruise experience.
I'm aboard the Norwegian Bliss at the World Cruise Terminal in Los Angeles – driving around the first race track at sea.
In the high-tech battle to produce ever more amazing cruise experiences, the Bliss is certainly in the forefront, if not the lead. And the go-kart track is right up there with 10-storey waterslides and surf pools.
Up to 10 drivers at a time can race to the finish line and at around US$10 it's well worth it.
But there is lots else to recommend the Bliss, which has just become Norwegian Cruise Line's highest grossing vessel, booking out the quickest of any.
The first thing to notice is the beautiful scene of wildlife painted on her hull. It's a unique feature that Norwegian pioneered – colourful and vibrant hulls.
Dolphins and whales swimming in chilly waters – it's an illustration of what's to come when she heads to Alaska for the American summer season.
Cruise Passenger stayed on board her for two days – one of the four inaugural trips she has sailed before she was christened in Seattle.
With 20 restaurants, eateries and cafes, 13 watering holes, a two-storey go-kart track, a laser tag course, a massive thermal suite and spa area, the luxurious ship-within-a-ship, The Haven, as well as a large observation area with 360 degree views, the list of things to do seems endless.
The ship is beautiful inside with ornate light fixtures, contemporary art (definitely an influence from Norwegian Cruise Line's president and CEO Frank Del Rio) and lovely plush sitting areas – definitely the vibe of a luxury ship.
She can accommodate 4,004 guests will head to Alaska for summer, Miami in the American autumn/winter 2018/19 as well as New York for the following winter season.
Not only is Bliss impressive in size, but also in the size of her staterooms. Our 216sqft balcony cabin was extremely spacious for two guests and had ample closet space, two king single beds as well as a large bathroom with a double sink and a large shower (no more shower curtains sticking to you mid-scrub).
But the best thing about the cabin is the balcony – designed to view the beautiful Alaskan scenery, it's large and spacious. Definitely one of the biggest I've ever seen for a balcony stateroom. With two sun lounges as well as a table for two, it would be the perfect way to enjoy a croissant and coffee while watching the Alaskan glaciers pass the Bliss.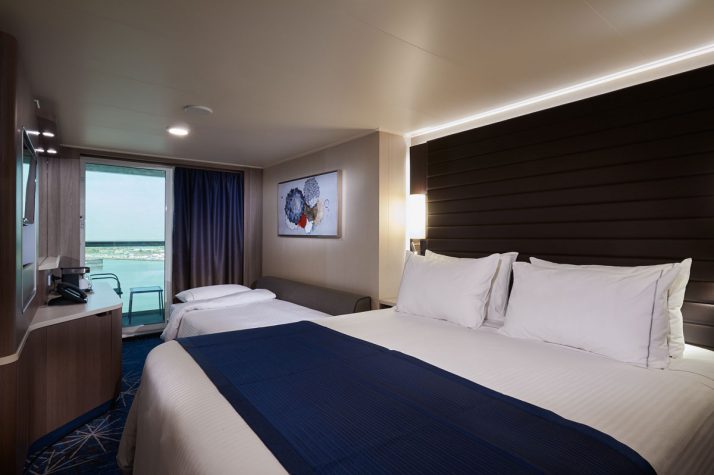 For families, there are 74 mini-suites which feature two lower beds that convert to a queen-size bed. These interconnecting cabins are great for large groups travelling together.
Another key accommodation point is the 82 studios, designed for solo travellers – another feature which Norwegian pioneered.
Each studio guest is also given access to the Studio complex and exclusive Studio Lounge so solo travellers can meet and mingle.
Once you've worked up an appetite from all those activities, Bliss has a large array of dining options which will satisfy every craving.
The complimentary dining areas include The Manhattan Room, which is reminiscent of a New York City supper club serving modern and classic American dishes. Otherwise there is Taste and Savor which are lovely for breakfast.
You'll find classic items like omelettes, pancakes, French toast as well as bagels. And if you're watching the waistline, the dining room offer egg whites as well as wholemeal bread.
We were lucky enough to dine at Q, a new offering on Bliss and is themed like a true Texan smokehouse. Ribs, steaks, brisket, mac and cheese, pinto beans and corn on the cob are some of the highlights on the menu.
If you're brave enough, tackle the meat platter that comes with mouth-watering smoked sausages. Be warned though, your meal does come with sides of coleslaw, potato salad as well as pickles. So to work off all that meat, after dinner service, you can pull on your cowboy boots for line dancing to contemporary country music.
But the dining highlight on our short trip was the food at Le Bistro, a moody French restaurant where you'll find classics like escargot, crème brulee and duck. To start, I opted for the exquisite lobster and prawn dish with pastry and mushrooms and for main, veal with pommes anna and root vegetables.
For some rest and relaxation, the Bliss' Mandara Spa is impressive. You'll find a men's and ladies hair salon as well as 24 treatment rooms where you can get a facial or even botox (you'll step off a whole new you).
But the biggest draw card is the fabulous thermal suite which has 17 heated lounges where you can read a book after you've finished up using the snow room for aches and pains, the salt room to distress and help skin disorders or the sauna to release those toxins. Priced at around US$246 for sailings seven-days or longer, it's well worth the money.
Every aspect about the Bliss has been perfected and crafted well – everything from the new observation deck at the front of the ship, to the wine and beer list at each bar, it has all been well thought out to cater for each demographic and market who want to experience Alaska.
She'll no doubt be a game changer for well-seasoned cruisers, first-time families and solo travellers.