In a major blow to the return of cruise to Australasia, Ponant has been forced to pull out of its program of cruises in New Zealand, even though all cabins had already been sold.
The move comes after Le Lapérouse was turned away from New Zealand despite agreements from New Zealand Health they would be able to sail all seven itineraries.
The ship was threatened with arrest and the crew with imprisonment in what looks like an astonishing piece of government mismanagement. The Immigration Minister Kris Faafoi went on TV to issue a tough set of options for Ponant in an extraordinarily hostile performance presumably designed to play to political supporters.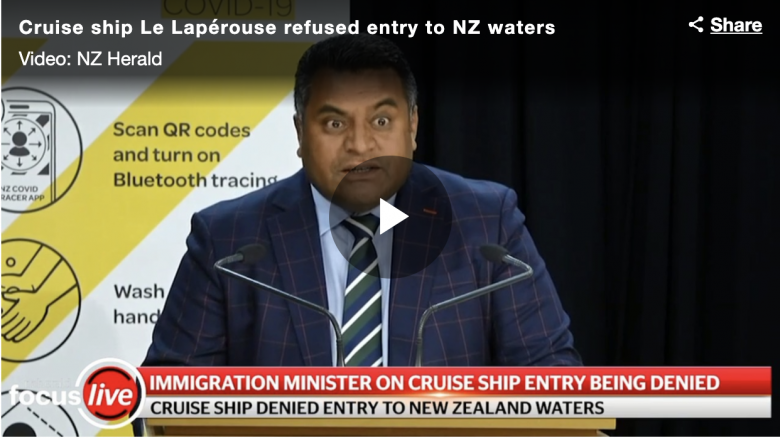 Immigration Minister's press conference is
here
.
As the ship approached New Zealand waters at the weekend to prepare for the first cruise on February 8,  Ponant was told the Immigration Department was refusing to grant visas for 61 of the 90-strong crew.
The department claimed crew with designations like hairdressers and massage therapists were "non essential".
The eleventh-hour decision left Ponant with no option but to sail the ship to New Caledonia to refuel, while the company made valiant efforts to try and recruit trained New Zealanders to fill the roles.
In the end, however, they had no choice but to throw in the towel.
The line has described the decision as "devastating", and said it had cost Ponant and New Zealand producers and suppliers $6 million in lost revenue.
Ponant's Asia Pacific Present Sarina Bratton added: "I am very concerned for the industry's future ability to operate in NZ. Unless there is a change of policy it will be very difficult for any company to manage the commercial and operational risks in NZ."
Ms Bratton, one of the industry's most experiences executives, is continuing to talk to the NT Government about sailings in Kimberley.
"We continue to work with the NT Health Department on Kimberley operations," she said.
A line statement said: "Following a detailed application submitted in October, including the numbers, and nationality makeup of the crew to arrive on the ship, the NZ Ministry of Health issued an approval in mid December.
"The approval's conditions were to operate with a limit of 100 guests, within NZ waters, for Kiwis only.
"Le Lapérouse and her full complement of 90 crew were mobilised under strict Covid isolation and multiple testing protocols and sailed from her anchorage off Jakarta on January 10 for New Zealand. Health officials were scheduled to test all crew upon arrival on 30 January.
"After travelling more than 3600 nautical miles, the company was advised on 27 January that visa applications for the hotel department officers and crew were not considered critical to the ship's entry to NZ and the applications were declined.
"The company was advised that the ship must not enter the 200 mile NZ Exclusive Economic Zone otherwise face arrest with imprisonment penalties for the ship's Officers and Company Management.
"The ship was instructed by INZ to turnaround and go elsewhere. Low on fuel, the only safe option was to apply for entry to New Caledonia which was granted allowing the ship to arrive yesterday.
"This forced cancellation is devastating not only to PONANT, but it will:
disrupt the travel plans of some 650+ New Zealanders,
cause up to $6m in direct economic loss to food, beverage, ground operator SMEs across the country supplying the vessel,
eliminate income (again) from the New Zealand travel agency community, and
be devastating to 16 Kiwis contracted to work onboard for two months, to lose their income.
"Worryingly this decision by INZ places great uncertainty about the future for not only the high yielding Expedition Cruise sector but to the $670 million economic benefit the Cruise Industry generates for the country.
Ponant has invested millions of dollars promoting New Zealand internationally, and operating in NZ seasonally for the past 7 years. We hope there is a quick review of the processes for expedition ships to operate in New Zealand and that the 2021-2022 season can be saved. "
The cruise itineraries New Zealand organisers say they will have lost large amounts of money and now have to tell almost 700 New Zealanders their holidays have been cancelled.
Cruise lines International Association Australasia MD Joel Katz told Cruise Passenger: "While the initial suspension of cruising was the correct response, Ponant has worked for many months to get approval for their NZ season from the Ministry of Health based on the extensive health protocols the industry has implemented, included testing and quarantining of crew, and comprehensive COVID prevention, mitigation, and response plans.
"These extensive protocols have successfully been implemented in other jurisdictions, including Singapore and Taiwan, and even closer to home here in Australia, where for the past few months cruise lines have been cruising without a recorded case of COVID-19. Offering local cruises to locals only, with reduced capacity, social distancing, enhanced medical facilities and extensive COVID testing, these voyages demonstrate that local cruising can resume in a carefully managed way.
 "Australia and New Zealand's success in stemming community transmission, creates the opportunity for a phased resumption of cruising, initially offering local cruising for locals only while international borders remain closed."