A 10-year-old boy has died after being found "unresponsive" in the cruise ship swimming pool onboard the Genting Dream, owned by Dream Cruises.
The news comes after at least a dozen drownings or near drownings on cruise ship pools in the last six years, and begs the question:  Who should be responsible for swimming pool safety on board cruise ships?
Surprisingly, out of all the major contemporary family cruise lines at sea, only three now offer lifeguards on duty: Disney Cruises, Royal Caribbean International and Norwegian Cruise Lines.
But while these three lines are some of the major providers of family-friendly cruising, it's not only children who fall victim to incidences of drowning in cruise ship pools.
Many cruisers believe that parents should be responsible for looking after their children when in the pool.
But cruise lines are now boasting more water features than ever before, from wave pools to waterslides, multiple jacuzzis, water parks and oversized swimming pools. All this aqua infrastructure is mainly targeting families with young children.
The new facilities make it almost impossible for a parent to have their children responsibly guarded without help.
And considering the regulations on land, the question remains: who is responsible for the safety of passengers in pools on the water?
Legally speaking, cruise lines are protected by a 1920 law, known as the Death on the High Seas Act, that exempts them from nearly all financial responsibility in the death of a non-wage earner, such as a child or retiree. The only financial burden on the lines would be funeral costs for the victims, which doesn't incentivise cruise lines to post lifeguards, said maritime attorney Michael Winkleman, of Miami-based firm Lipcon, Margulies, Alsina & Winkleman.
"But large settlements that are emerging, as well as growing public pressure to add lifeguards, is finally forcing the lines to change their policies," Mr Winkleman said. "Public sentiment shifted because of the sheer number of children that began drowning on cruises.
"A lot of people said, 'Where are the parents?' I absolutely think parental responsibility plays a major role. But when it was up to a dozen children, those naysayers said, 'Gosh, maybe these big corporations should take a simple step to keep our families safe," Mr Winkelman said.
The latest incident involved a 10-year-old Singaporean boy, found dead in the pool of the Genting Dream, even though there were guests in the pool with him.
Langkawi district police chief Mohd Iqbal Ibrahim said in a statement that a pool attendant and other visitors were in the pool, but failed to rescue the boy. Dream Cruises said the ship's onboard medical team immediately tried to resuscitate him, but were unable to revive him.
"Dream Cruises is cooperating with the relevant authorities on the incident and providing all the necessary assistance to the family members in this time of difficulty," it said in a statement.
Here's a look at what each of the major lines are offering:
Royal Caribbean International
Royal Caribbean International has begun posting lifeguards at every pool, including in the adults-only Solarium area and began offering life jackets for children to use in the pool in late 2015.
Miami-based Royal Caribbean partners with IAM StarGuard Elite, which provides licensed lifeguards, consulting and risk-prevention services. The lifeguards, who wear red-and-white uniforms, will not serve other roles on the ship, as often is the case with crew members who take on various tasks on cruise ships. The line also offers a 15-minute water safety presentation during the embarkation-day open house session for Adventure Ocean, Royal Caribbean's youth program.
In 2012, an 8-year-old boy drowned on Royal Caribbean International's Anthem of the Seas. The year before, a family sued the line, demanding that it add lifeguards at pools after a 4-year-old nearly drowned in a wave pool on Oasis of the Seas. In 2014, a 6-year-old boy suffered a brain injury after nearly drowning on Independence of the Seas.
Disney Cruise Line
Disney Cruise Line was the first to offer lifeguards. The change was prompted by a March 2013 incident when a 4-year-old nearly drowned in a pool aboard the Disney Fantasy and suffered a brain injury, resulting in a multi-million dollar settlement and the introduction of lifeguards on all Disney ships.
The lifeguards are always on duty, so long as the family pool is open. The pool is closed at night, and sometimes closed during bad weather or special events.
Complimentary pool vests are available at the pool decks aboard all ships. These vests may be worn by children only in swimming pools to aid flotation.
Norwegian Cruise Line
Three children aboard Norwegian Cruise Line ships have drowned or nearly drowned. In May 2015, a 10-year-old girl drowned on the Norwegian Gem and in February 2014, two children were found in a pool on the Norwegian Breakaway. A 4-year-old boy died, and his 6-year-old brother was airlifted to hospital in a critical condition.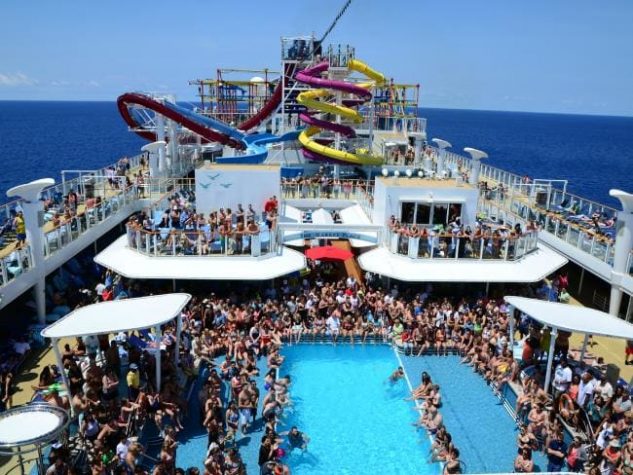 Since then, Norwegian Cruise Line announced that the line would employ certified lifeguards at all of the family pools across their fleet. The first responders are trained and certified by the American Red Cross in lifesaving rescue measures and monitor the family pools during scheduled pool hours. The lifeguards operate on the line's entire fleet.
In addition to uniformed lifeguards, Norwegian also offers complimentary swim vests for both adults and children on the line's four largest ships. Parents can obtain the safety vests at the towel station on the ship's pool deck during daytime hours.
Carnival Cruise Line
In 2013, a 6-year-old boy from Orlando drowned aboard Doral-based Carnival Cruise Line's Carnival Victory. That same year, a 41-year-old man drowned in a hot tub on the Carnival Dream. 
Cruise Passenger contacted Carnival Cruise Line directly and the latest official response is:
"With regard to lifeguards, while we call these personnel "aquatic attendants," all crew that man the pool areas are certified lifeguards.  Safety experts recommend that the best protection of swimmers – especially children – is active supervision by a responsible parent/adult.  So while we have lifeguard-certified attendants on duty at all times when pools are open, we do not promote with "Lifeguard on Duty" signage since we want parents (and other responsible adults) to actively manage their kids.  We sail more children than any other cruise line – more than 900,000 of our nearly 6 million annual guests are children.  With the advice of experts and studies, we made this decision to promote an additional layer of pool safety."
Jennifer De La Cruz, a spokeswoman for the line, has also said Carnival has always taken pool safety "very seriously" and will continue to make "significant" investments to train employees on water safety, CPR and first aid. The line has two dedicated water safety management roles on its fleet to audit the line's operations.
Carnival offers complimentary life vests, uses safety nets around its pools when they are closed and provides pool safety information to parents with children under 12 years of age.
Dream Cruises
The Genting Dream offers its customers "authentic Asian hospitality" on the ship, which stands at 18 decks tall and boasts waterslides and swimming pools.
It says the pools are up to 6.5 feet deep and all children under 12 must be accompanied by an adult. There are no lifeguards onboard, instead there are "highly qualified pool attendants."
P&O Cruises
P&O have no lifeguards on duty. Instead, they offer the following advice to their passengers:
Never leave your children unattended, particularly when they are using the swimming pool or spa. Please do not jump or dive into the pools. No alcohol is allowed in the pools. There is no access to pools or spas when they are netted. If you see anyone in difficulty, please throw them a life ring, assist if possible and call Reception
Princess Cruises
In 2016, Princess Cruises began advertising for lifeguards to mann its onboard pools, however the employees would only work on Asian cruises.
One advertisement read: "Be the Consummate Host and delight our passengers by monitoring and operating all water-based recreation facilities including, opening, closing and monitoring the safety and volume of the swimming pool and general activities around the pool areas including environmental issues. Assist with investigating any medical situations or security matters that may arise, and promptly report to Deck and Medical and work with Security team to correct any Security issues in order to maintain a safe and secure shipboard environment …"
The employee is charged with "monitoring the pool areas" and "keeping pool areas clean", and "efficiently and calmly reacts to incidents where any individual may be in need of minor first aid or lifesaving actions (prior to the medical team's attendance)".
A Princess Cruises spokesperson told Cruise&Travel Asia: "With Princess Cruises' expansion into China, a decision was made to have swimming pool monitors in Asia where widespread proficiency in swimming is far less likely than in other regions."
In Australian waters however, parents must supervise their children at all times when using the pools, as there are no lifeguards on duty.
What you say:
Cruise Passenger posed the question to our readers via our Facebook chat. "There has been another fatality in a pool on a cruise ship. Do you think it should be mandatory for lines to employ lifeguards to supervise during pool opening hours?"
At the time of writing this article, the response is:
91 readers say YES to lifeguards
102 say NO to lifeguards
204 specifically say "PARENTS should watch their own kids"
6 say "STAFF should act as lifeguards"
Here's what some of our readers have to say:
Marilyn Willis says:  We were on an RC ship and children in the main pool. Yes there was a life guard and he had to jump in and rescue not one but two children. Older one was trying help little one about 5 & 7
No sign of mum she arrived 15 mins later had a go at older child. 🤬
Ten mins later another child in trouble about 8 again no 'parent' around. What is wrong with these people?😡😡
John Ross says: Have seen young children swimming unsupervised while parents sunbaking, smoking, drinking.
Karen Coleman says: I have been on multiple cruises and more and more I see quite young children running around, swimming and in spas with no responsible adult around to supervise. Either put them in kids club where they are supervised or watch them yourself. It's not up to other people, personal responsibility people. My kids went to kids club so I didn't have to worry. Most of these adults are having a lovely time and seem to forget they have kids. The kids are running rampant around the ship and getting in everyone's way. Not up to the ship to manage this.
Sue Faure
  says: I have been on many cruises and too many parents let their kids run wild around the pool while they go off and have their own fun or go to sleep on a deck chair! On one cruise I was in the spa with 2 of my grandchildren and a boy about 6 or 7 jumped on top of us nearly drowning my granddaughter. I told him off because his parents were nowhere to be seen
Peter Gasiorowski says:  Much to our Dismay and Horror a gentleman died aboard MSC. SPLENDIDA 2018 around the pool cruising from Dubai to Yokohama. While Lifeguards??? Stood around completely dazed and it took Medical staff a half an hour to offer assistance. TOO LATE!!!! LIFEGUARDS ARE NOT LIFEGUARDS. A SHOCKING SCENARIO and surely worthy of a Lawsuit😲
Carol Roseanne Barber says: Not everyone can swim and as a risk management issue when providing a pool requires appropriate guidelines for use and that includes supervision.
To have our say on this Facebook chat: Australian Cruise Passenger