Heads should roll as yet more bungles revealed about Ruby Princess
News
Cruise Passenger readers – Australia's biggest cruise community – have given their verdict on the report into the Ruby Princess debacle.
An overwhelming 82.6 per cent believe not enough has been done to deal with the situation, and that heads should roll over the failings of the NSW Department of Health.
Two heads in particular are called for: Health Minster Brad Hazzard and Premier Gladys Berejiklian.
We polled 10,000 cruise passengers last week after the Special Commission report was revealed and Premier Glady Berejiklian apologised for the mistakes that led to up to 26 deaths and hundreds of cases of COVID-19. She also said no action would be taken over those Department of Health officials singled out in the report
Of those who responded, over 82 per cent said the Premier should have ordered disciplinary action, and only 17 per cent thought she had got it right.
The Commission report into how the ship docked last March and discharged 2,700 passengers before the results of COVID-19 checks were known lambasted NSW Health, saying they made "serious", "inexplicable" and "basic" errors.
Cruise Passenger's view and a full story on the report can be found here.
We believe so many disastrous decisions deserve sanction, and promising to enact the reports recommendations without spelling out what is being done is not good enough.
Cruise Passenger contacted the Premier's office twice last week to ask for the list of changes which will be mandated as a result of the report.  No comment was forthcoming.
This week, a Senate committee in Canberra heard the secretary of the Department of Agriculture, Water and the Environment, Andrew Metcalfe, agreed his officers did not follow national protocols during the Ruby Princess debacle.
The Walker inquiry made no criticism of Australian Border Force officers.  But Mr Metcalfe acknowledged there was some adverse commentary about the role played by his officials.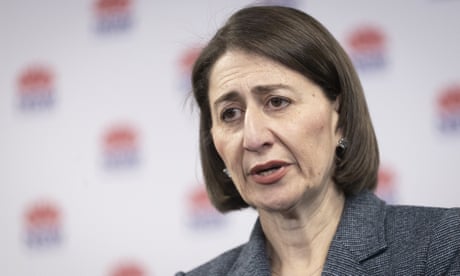 NSW premier Gladys Berejiklian
The federal departmental head acknowledged the inquiry had found, "and we fully accept, there are some areas for improved action". The Walker inquiry found that federal officers charged with biosecurity responsibilities did not conduct a traveller illness checklist after NSW health officials had assessed that the vessel was "low risk".
The Australian reported no changes will be made to the expert panel process and no disciplinary action will be taken against the four physicians who were ultimately blamed for the "serious failures" resulting in the ship being designated a "low risk" for COVID-19.
Cruise Passengers readers have some pretty strong views – many believe Princess Cruises deserves an apology after being vilified in the media for weeks, subjected to a police inquiry – and now cleared of blame by Commissioner Bret Walker.
Here are just some of your views:
Jane Lincoln We knew the cruise line was not responsible…we were on the previous cruise where the hygiene levels were sky-high. Everyone with a sniffle was checked before disembarking and along with the day to day instructions of hand-washing etc. there was little chance of them being held accountable.
Adam Vance I think trolls, tabloid media and some in the government and police expected the blame to fall more towards Princess and its been a bit of a shock that 90% of the accountability has dropped onto NSW health. The Police Commissioner says a criminal investigation will still proceed even though the report states no crimes have been committed. You'd think that we would respect the "ref's call" but I'm afraid that those that are unhappy with the reports findings will push in other directions.
Lee Bonarius What about Mr Health Hazzard, Ms Binchicken has apologised, where's his resignation.

Carlos Azevedo Now an apology to Princess and for A current Affair to also offer an apology to Princess on the story they had run blaming Princess.
Paul Thomas Carnival and Princess are not off the hook. They have some responsibility for the poor outcome due to their inaction and not implementing the measures required. They did not inform a anyone onboard of the suspected COVID-19 passengers and continued all activities as normal they did not isolate suspected passengers in their cabins or isolate sick crew. The outcome would be vastly different if they had done what they should have. The assessment by NSW health may also have been different if the Ship had treated the ill passengers in line with the new requirements. This is an extract for the report:
2.15 Carnival should have ensured that Dr von Watzdorf was made aware of the change to the CDNA "suspect case" definition on 10 March 2020. They should also have ensured that passengers and crew aboard the Ruby Princess were informed that there were suspect cases of COVID-19 on board. Those persons meeting the definition of a suspect case should have been required to isolate in their cabins.
Toshy Roy Mistakes that cost people their life and all they can say is we will learn. No apologies to the Victims and none held accountable, just installs by the lack of caring for the actions
Kev Lamb Barb Duggan I believe there was no rigid process in place and that all parties concerned should get together and form a process rather than conducting a non productive witch hunt.
John Harlow No as it was mostly a breakdown with the inadequate procedures within NSW Health at the time. However I believe the Health Minister to be grossly incompetent, not only in the handling of the Ruby Princess stuff up but also in most things. Therefore I think he should go.
Princess Cruises declined to comment on this report. After the findings were released, president Jan Swartz said:
"The Commission's report confirms that none of our people — the Captain, the ship's doctor, or members of our shore side port agency team — misled public authorities involved in Ruby Princess being permitted to disembark guests on March 19.
"This finding is of great importance to us because it goes to the integrity of our people.  In our more than 20 years in Australia, we have always sought to cooperate honestly and professionally with officials in accordance with the regulatory environment.
"We acknowledge the Commission's specific comments about Carnival and we will consider these comments to the fullest possible extent.
"Princess Cruises also welcomes the Commission's attention to improving information sharing and coordination among government agencies in the future. In our submission to the inquiry, we agreed that this area deserved consideration. We look forward to collaborating with government agencies and industry peers to improve these systems."