Majestic Princess, one of the largest ships in the Princess fleet, has arrived in Australian waters and she'll be sailing into Sydney next week.
Here are some of her amazing features  – as well as some fun facts you need to know about her before she arrives.
Dimensions
At 143,700 tonnes, Majestic Princess is equivalent in size to 126 Sydney Manly ferries.
She's 330 metres long meaning she is 21 metres longer than the height of Sydney's tallest building, the Sydney Tower.
Majestic Princess is taller than the Sydney Opera House by 65 metres.
Onboard Features
Majestic Princess features two swimming pools and eight Jacuzzis.
She has 1,780 staterooms – twice as many as Australia's largest hotel, the Hyatt Regency in Sydney, which has 892 rooms.
Majestic Princess is the only cruise ship in Princess' fleet that offers specialty dinner menus by two Michelin star-awarded chefs: Chef Richard Chen at Harmony and Chef Emmanuel Renaut at La Mer. Fancy!
The new show onboard, 'Fantastic Journey' is the first show at sea that features drones.
Looking for a good night's sleep? All staterooms have the special Princess Luxury Beds which were developed by certified sleep expert, Dr Michael Breus.
The ship features 4,000 pieces of art.
Construction
It took three million hours to build Majestic Princess…that's a lot of coffee breaks.
There are 4,000 kilometres of electrical cabling in Majestic Princess– equivalent to the road distance between Perth and Sydney.
To paint Majestic Princess, builders used 360,000 litres of paint. That's 12 times the amount used to give the Sydney Harbour Bridge one coat of paint.
Wining and Dining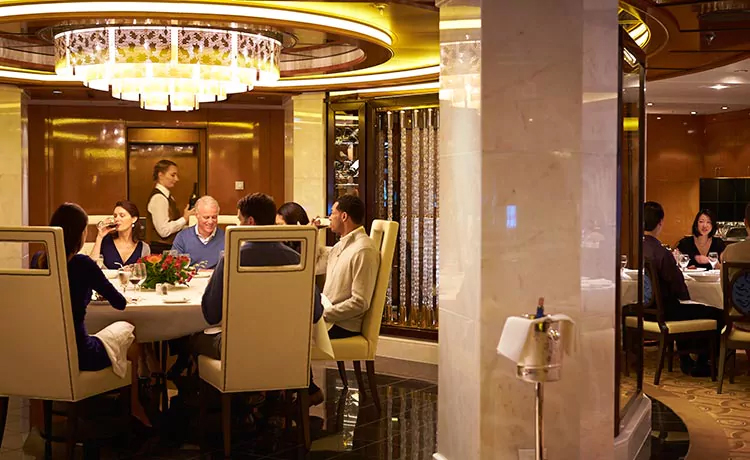 Majestic Princess has numerous bars and lounges including; Hollywood Pool Bar, Bellini's – Italian-inspired cocktails, Vista Lounge, Ocean Terrace Bar, Fountain Pool Bar, Wake View Bar, SeaView Bar and Crooners. The line is also keeping onboard the Gong Cha Café, which was designed for Asian guests.
Majestic Princess' dining options include; Three main dining rooms (Symphony, Concerto, Allegro), Three specialty restaurants (Harmony Chinese Restaurant, La Mer French Bistro, Crown Grill & Bar), Alfredo's Pizzeria, the World Fresh Marketplace – including The Bakery, Lobster Grill, Noodle Bar, the International Café for coffee, snacks and light meals, Vines Wine Bar and Chef's Table Lumiere.
There are 400,000 kilograms (about 20 truckloads) of supplies loaded onboard Majestic Princess every 10 days.
About 80,000 kilograms of fresh fruit and vegetables are consumed per cruise.
There are 250,000 eggs consumed each week onboard.
Majestic Princess stores 18,000 bottles of wine and champagne in its wine cellars
Twenty ice sculptures are produced each cruise from three tonnes of ice.