Free flights, a 10-night Kimberley cruise plus two hotel stays from $899pp per night
Sponsored
This is an epic adventure to the outback combining two cities, Darwin and Broome plus a 10-night, luxury, all-inclusive cruise onboard Silver Explorer to experience the natural wonders of the Kimberley.
It is a holiday to outback Australia teeming with "jumping crocs" thundering waterfalls and the spectacular Horizontal Falls – all bucket-list experiences to be ticked off in one's lifetime and in one journey.
Welcome to Imagine Holidays' amazing 15-night, two-city and expedition cruise on Silver Explorer to the Kimberley coast departing 11 July 2022 with prices starting from $899 per person per night. And you can save up to $3800 per couple.
This is what you will get for your holiday:
Free flights and transfers
10-night, all inclusive luxury expedition cruise on board Silver Explorer
In-suite butler service with fully stocked fridge
Beverages including champagne, fine wine, beers and premium spirits
Three-night, four-star hotel stay at Hilton Darwin or similar including breakfast
Two-night, four-star hotel stay in Broome at Cable Beach Club Resort & Spa or similar with breakfast
Fully escorted Darwin city tour
Private Jumping Crocs cruise along the Adelaide River
Walking tour at Litchfield National Park
For a free quote, simply submit the enquiry form below or call (02) 8313 5949.
Your holiday starts when you arrive in cosmopolitan Darwin with its Asian-influenced cuisine, sparkling harbour and tropical lifestyle. Head to Mindil Beach, famous for its sunset beach markets filled with stalls selling food, music and cultural artefacts. To see Aboriginal rock art dating back 20,000 years, go for a tour at Kakadu National Park.
The next day you will be taken on a fully escorted tour for a cruise on Adelaide River to watch the jumping crocodiles at close quarters in their natural habitat.
On the third day, you will taken on an excursion of Litchfield National Park where you will see unusual rock formations and waterfalls. Keep a look out for the giant termite mounds, frill-necked lizards, possums and crocodiles.
The next day, you will board the intimate, 144-passenger, Silver Explorer, specially designed to navigate waters in remote destinations. You can try lava stone cooking at the ship's Grill restaurant or head to The Restaurant for regional specialities. The chic and contemporary ship also has a panorama lounge where you can sip a cocktail while listening to the lively tunes of the pianist.
Your first port of call at Matakus Island, a tiny island of Indonesia with limited tourist infrastructure. Go swimming and snorkelling to discover staghorn corals and cardinal fish in the crystal-clear waters. Savour freshly caught, grilled fish by the shore.
After a day at sea, you will arrive at Wyndham, gateway to the breathtaking Bungle Bungle Range , a vast area of cone-like mountains that have been carved by wind and rain over millions of years.
Silver Explorer will then cruise to King George River where you will behold torrents of water crashing down 80-metre cliffs – the King George Falls are one of Kimberley's most spectacular natural wonders. You will also find saltwater crocodiles and abundant birdlife including the giant raptors and Brahminy Kite.
The ship will then arrive at the Hunter River which has the biggest population of saltwater crocodiles in the region and is home to a vast maze of mangrove swamps surrounded by red, sandstone cliffs.
As you cruise further inland, you will see the mighty Mitchell Falls where four tiers of waterfalls fall into deep pools, inviting visitors to take a refreshing dip in the water.
The next day, you will navigate the Buccaneer Archipelago region to behold the breathtaking sights of the Horizontal Falls, described by David Attenborough as "one of the greatest natural wonders of the world." Watch the fast moving tidal current squeeze through two narrow gorges producing whirlpools and waterfalls turned on their side. It's heart pumping.
After cruising the Buccaneer Archipelago region, which is made up of mostly uninhabited 800 islands you will arrive at your final destination of Broome where you will disembark and stay two nights in a four-star hotel. Make sure you visit Roebuck Bay, best known for its Staircase to the Moon, a rare natural optical illusion which occurs when the tide is receding.
Spend a day exploring Gantheaume Point where giant dinosaur footprints can be seen at low tide in the red rocks. Go for a camel ride then head to the Pearling Master's high tea at Pearl Luggers in the heart of Chinatown for a treat before flying home the next day, filled with memories of a wonderful, outback holiday.
[divider]ENQUIRE[/divider]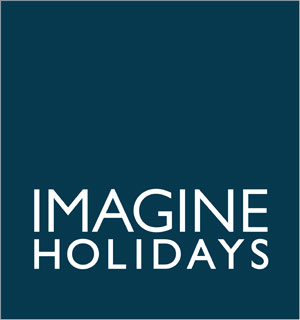 Free flights, a 10-night Kimberley cruise plus two hotel stays from $899pp per night.
Fill in your name, email and phone number and a representative from Imagine Holidays will be in touch.
To learn more, visit imagineholidays.com.au or call Imagine Holidays at (02) 8313 5965.