Coral Expeditions' recently refurbished Coral Discoverer is best known for its Kimberley cruises. Brian Johnston hops aboard to sample its expedition offering.
As I sail the convoluted, indented Kimberley coastline, rust-red and battered and pounded by astounding 10-metre tides, I realise Coral Discoverer isn't just one vessel but three. The ship itself is small and nimble. It has active stabilisers for the open sea and a shallow draught – just three metres – for navigating tidal bays and skirting reefs and islands. But it also has the purpose-built tender Xplorer that can carry all the ship's passengers into even shallower reef passages, and up rivers to gaze at waterfalls and bruised gorges orange in the heat. There are zodiacs too, able to nudge between mangroves, get close to nesting seabirds, and shoot the famous Horizontal Falls.
The variety of options means you can get into the seldom-visited crannies of the Kimberley coast, from the Lacapede Islands – a precarious set of bird-haunted sandbanks sitting atop coral outcrops – to reaches of the Prince Regent River, or the tight little gorge of Red Cone Creek. The creek, barely wider than Xplorer, comes to a dead end at Ruby Falls, which gushes into a green pool cupped by red cliffs. We clamber up sandstone blocks, occasionally hauling ourselves on a rope, and plunge into a safe swimming hole away from the saltwater crocodiles.
In short, Coral Discoverer may be the mother ship but is only part of the story on Kimberley cruises, on which good expedition facilities are key to a fine wilderness experience. The ship was launched in 2005 as Oceanic Discoverer, renamed Coral Discoverer in 2015 and entirely refurbished in 2016. It carries 72 passengers and 20 crew and seems remarkably small when set against the grandiose backdrop of north-western Australia.
A billionaire's private yacht is bigger, and yet Coral Discoverer's interior doesn't feel cramped. True, you needn't expect a swimming pool or alternative dining venues, let alone a casino or troupe of sequined evening entertainers. This is a pared-down ship built especially for expeditions, with very little that is superfluous. If you're looking for bright lights and dance parties, you've boarded the wrong vessel. You're not even in the right destination. The only bright lights in the Kimberley shimmer on white-sand beaches and bounce off canyon walls. Sunsets from the ship's deck are a flamboyant display of red, orange and final, lingering purple.
Coral Discoverer is a confident but simple ship, wisely declining to compete with the flamboyant, outsized landscape. A compact lounge room doubles as a lecture venue and has a few shelves of good reference books on regions visited by the ship – the Kimberley, Arnhem Land and Cape York, Papua New Guinea, Indonesia's Spice Islands and Tasmania. The attractive, partially-shaded top deck has loungers and an Explorer Bar. Much of the time on my particular cruise this deck is too hot to use, but at sunset becomes popular for pre-dinner drinks.
That's about it, though passengers are welcome to visit the always-open bridge, where they can sit on a sofa and watch the nautical operations, or just enjoy the same outlook as the captain. There are other open decks at the back of the ship, one frequented by smokers.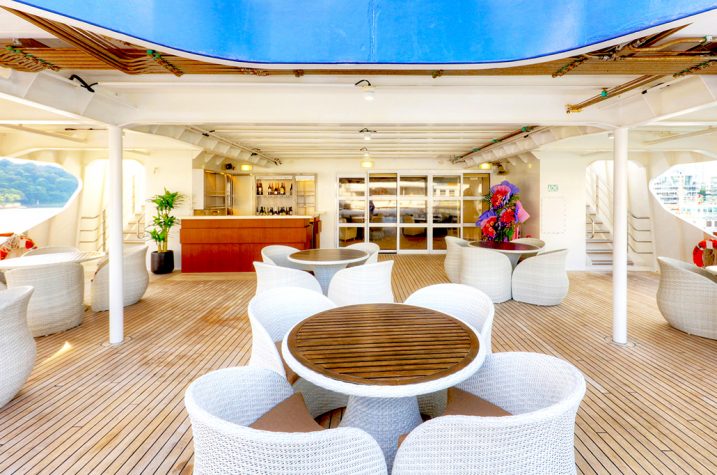 There are three decks of cabins in five categories, ranging in size from 15 to 20 square metres. The 2016 refurbishment of the ship added six new cabins with balconies onto the bridge deck. Others have either windows or portholes. I'm in a Promenade Stateroom category (cabin number B03), which has a small desk, sofa, two bedside tables and a decent amount of hanging and drawer space. The décor is tan and olive, rather masculine, enlivened by two large photos of whale sharks in large splashes of blue colour. The air-conditioning is very quiet, though the rattling of the ship's anchor very early in the morning is intrusive.
The dining room has tables for four or six, a small bar and a round-the-clock coffee station. Given the ship's limited space, dining too is limited, but two chefs work extremely hard at supplying three meals and two tea breaks daily. The food choices of bigger cruise ships just aren't available, so you only get a single (though delicious) cake or pastry for morning and afternoon tea, and a buffet lunch offering five or six dishes, generally a hot choice and several salads.
Coral Discoverer supplies good home-style cooking, wholesome and well balanced, yet without strong flavours, even on Thai curry night. Mains might include herb-roasted beef fillet with béarnaise sauce, or basil-baked coral trout with minted melon salsa, served with kumara mash and carrot batons. Dessert could be a chocolate brownie with mint ice cream, or caramelised lemon tart.
Meals are convivial. Passengers are mostly retirees and nearly all Australian, though on other expeditions you might get a smattering of New Zealanders and Europeans. It's striking how many are repeat visitors and avid Coral Expeditions fans. Those who like informal, informative expedition cruising are certainly in the right place.
Coral Expeditions is Australia's oldest expedition-cruise company, established in 1984 as Coral Princess Cruises to offer short itineraries on the Great Barrier Reef. It now has four ships (the others are Coral Expeditions I and Coral Expeditions II) and a new 120-passenger ship Coral Adventurer launched last year. A new Coral Geographer will debut later this year. It excels at an adventurous style of cruising. Tender operations are exceedingly well run. Passengers can board the purpose-built, 72-seater Xplorer straight from the deck; it's then lowered into the water on a hydraulic platform. It's efficient, with little waiting around.
Zodiacs can be boarded both from the hydraulic platform and from Xplorer. The boat also carries kayaks and scuba-diving equipment on some itineraries though not, thanks to the ever-present threat of saltwater crocodiles, in the Kimberley. Shore excursions are accompanied by an expert expedition team who are very informative about the region's ecology, geology and history. The story of European exploration hereabouts is fascinating, and the cruise also provides several opportunities to inspect Aboriginal rock art. All the excursions are included, bar a scenic helicopter flight to Mitchell Falls.
Excursions are varied. We visit rock-art sites on Bigge Island and Jar Island for a crash-course in indigenous Wandjina art, some dating back 20,000 years. We hike to the wreck of a crash-landed US Air Force DC3 in Vansittart Bay, and tender into Careening Bay to see the giant boab tree that Captain King carved with the name of his ship Mermaid in 1820. It's a beautiful bay on a wide, sheltered inlet, with golden sands punctured by crab holes and a tumble of black rocks, fringed of low red cliffs. The hillside behind is dense with vegetation, purple morning glory, cyclads and spinifex.
The sheer scale of the Kimberley landscape is astounding, and some excursions highlight things you won't encounter anywhere else. At Montgomery Reef, you'll see the outgoing tide gushing down reefs in a series of saltwater waterfalls in the middle of the ocean, and in Talbot Bay huge tides surge through narrow gaps in the escarpment, creating the Horizontal Falls. We cling to the ropes of the zodiac as we're pummelled by the current, grinning at the improbability of enjoying such a daunting destination in such ease.
HIGH Coral Discoverer works supremely well as an expedition vessel thanks to its petite size, support craft and friendly, informative team of accompanying experts, who also give intelligent, interesting lectures.
LOW The food is good, but regular cruisers might be disappointed at the relative lack of choice, modest servings and absence of upmarket, gourmet-style dishes. Alcohol is, however, included with meals.
BEST SUITED TO Older but adventurous couples and solo travellers looking for a sociable wilderness expedition rather than a mainstream cruise holiday. Zodiacs, wet landings and a hot climate require a reasonable fitness level.